With all of the stuff that I have written lately, it is best to take a break and spend the Christmas season with some of those people I love. This is a season of joy and happiness for many people and I wish you all the very best of seasons.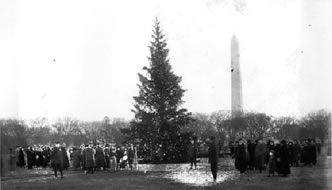 In that spirit, I thought I would direct you to a story about the first National Christmas Community tree, which I came across while researching Coolidge for my thesis in government.
On Christmas Eve, 1923, President Coolidge lit the first Christmas tree on the White House lawn. The tree, a 48-foot balsam fir, was cut from his beloved Vermont and given as a gift from Paul D. Moody, president of Middlebury College. The 2,500 electric bulbs were in red, white, and green and donated by the Electric League of Washington. President Coolidge lit the tree by way of an electrical switch.
At 9:00 PM, the First Congregational Church and hundreds gathered to sing carols to the First Family. Afterward, a 72-voice choir serenaded the North Portico.
At midnight, Washington's black community, led by the "Colored Community Centers and the D.C. Public Schools," held a forty-minute ceremony at the community tree.
In 1924, still reeling from the death of his son that summer, the American people sent the Coolidge a record setting 12,000 Christmas cards.
1927 was a momentous year for Christmas in the White House. After receiving countless requests to address the American people with a Christmas message, Coolidge finally agreed. On Christmas morning, a short hand-written message from the President appeared in every major newspaper, making this the first Christmas greeting to be given to the American public from a president.
I leave you with the words of the President, who sent out the very first Christmas message after the American people demanded one:
"Christmas is not a time or a season but a state of mind. To cherish peace and good will, to be plenteous in mercy, is to have the real spirit of Christmas. If we think on these things there will be born in us a Savior and over us all will shine a star-sending its gleam of hope to the world."
Rest assured that the Claremont Conservative will be back in good form after Christmas, but after I spend time with my good friends up North and my lovely, beautiful girlfriend down South while continuing the Coolidge work. (I'll also reviewing a new biography of my favorite children's author, Roald Dahl.)
To my parents, grandparents, sister, and brother, whom I am not able to see this Christmas due to money concerns, I love you all tremendously. Next year in Boston, I promise. One day, this'll all be beyond us.